February 25, 2016
Treasures from the Archives


There are still many boxes of Jack Mitchell photographs that remain to be cataloged even after more than two years of work. The box I opened this week turned out to be very special. It contains dozens of vintage Jack Mitchell photographs, enough for an exhibition - every one of which is personally autographed by the subject to Jack. It includes subjects as diverse as Hollywood star Gary Merrill, prima ballerina Alexandra Danilova, First Lady Eleanor Roosevelt and Francis Cardinal Spellman! Here is a sampling of just some of these autographed treasures:
Erik Bruhn, 1956 – Bruhn, considered one of the greatest dancers of the 20th Century, was dancing with the American Ballet Theatre when Jack took this photograph. Erik signed it: "For Jack with my best wishes, looking forward to future work with you, Sincerely Erik Bruhn, NYC. May 14, 1956"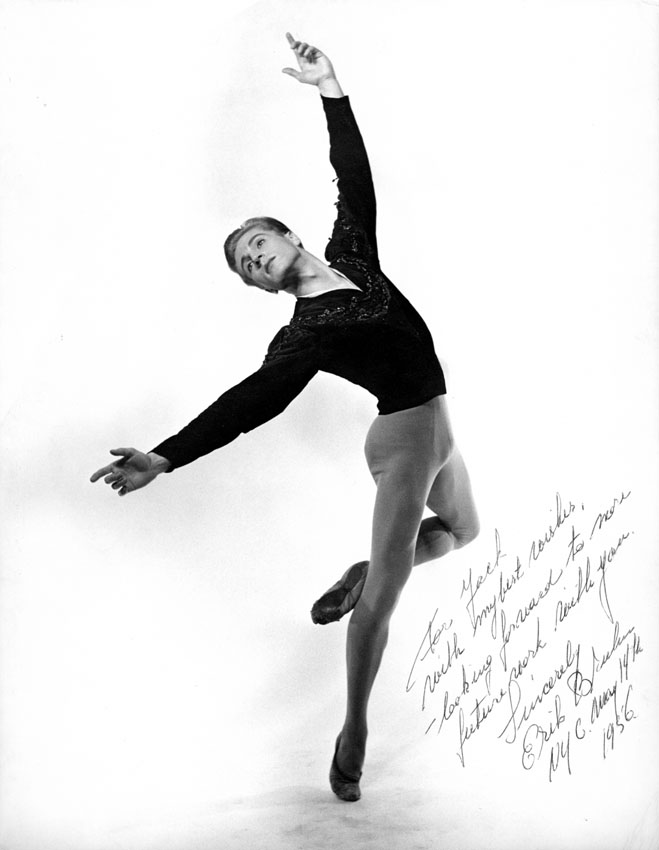 Irene Castle and Duncan, 1958 – Vernon and Irene Castle popularized modern ballroom dancing, Duncan was one of her dance partners in later years after Vernon's death. Jack photographed the pair in 1958. Irene signed: "To Jack Mitchell with good wishes, Irene Castle", Duncan signed: "To Jack from Duncan of Duncan and Castle"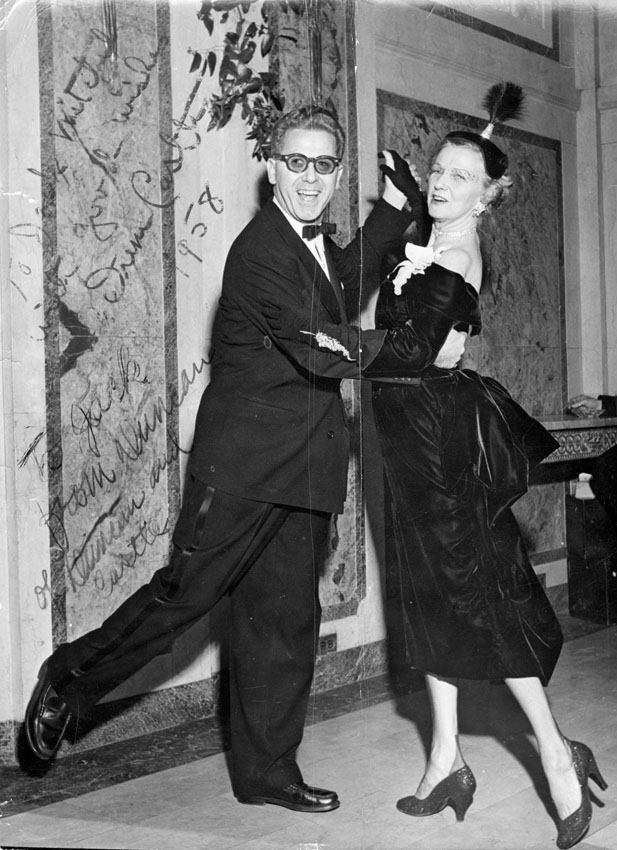 Gower Champion, 1957 – Champion was an actor, theatre director, dancer and choreographer. With his wife Marge he made seven Hollywood musicals. Jack photographed Gower during a rehearsal break. He signed: "To Jack, A Wonderful set of pics! Gower Champion"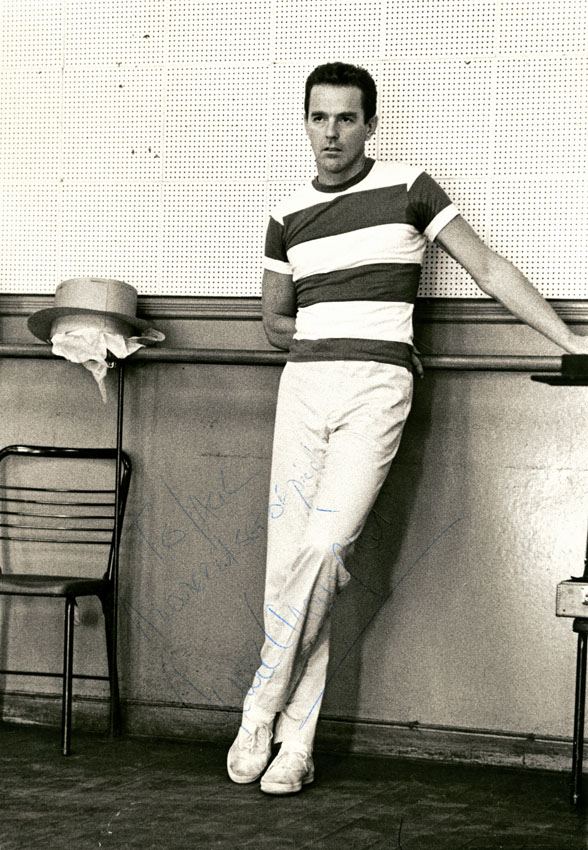 Harold Lang, 1952 – Versatile actor-singer-dancer Lang was photographed by Jack Mitchell in his dressing room on Broadway where he was starring in the hit musical "Pal Joey". He signed this portrait: "For Jack – I'm opening an Ice Rink in Florida, so keep your skates sharp, Harold"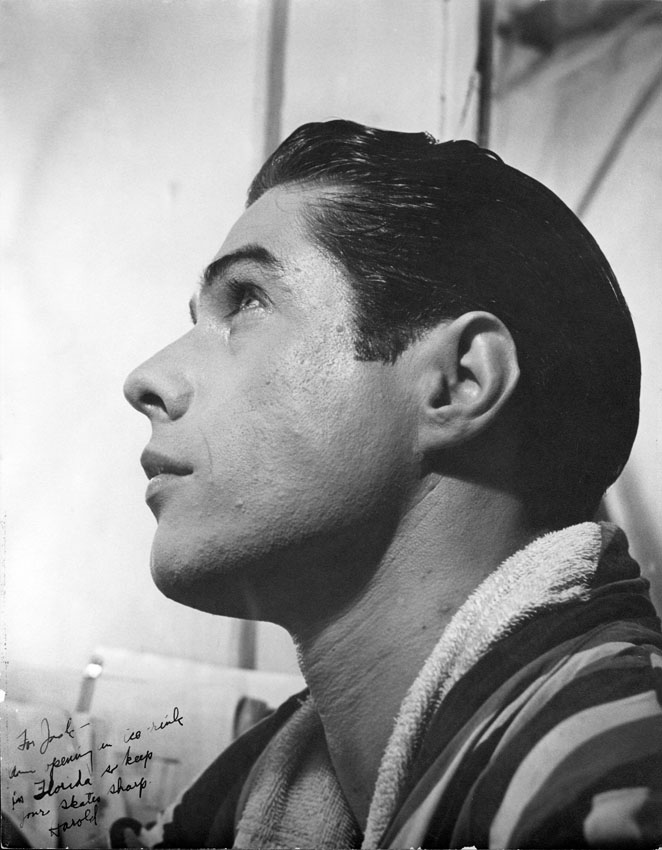 Jose Limon, 1950 – Jack photographed modern dance pioneer Jose Limon performing at Jacob's Pillow in 1950 – it was the first of many times. He signed this photograph: "To Jack Mitchell with all good wishes, Jose Limon"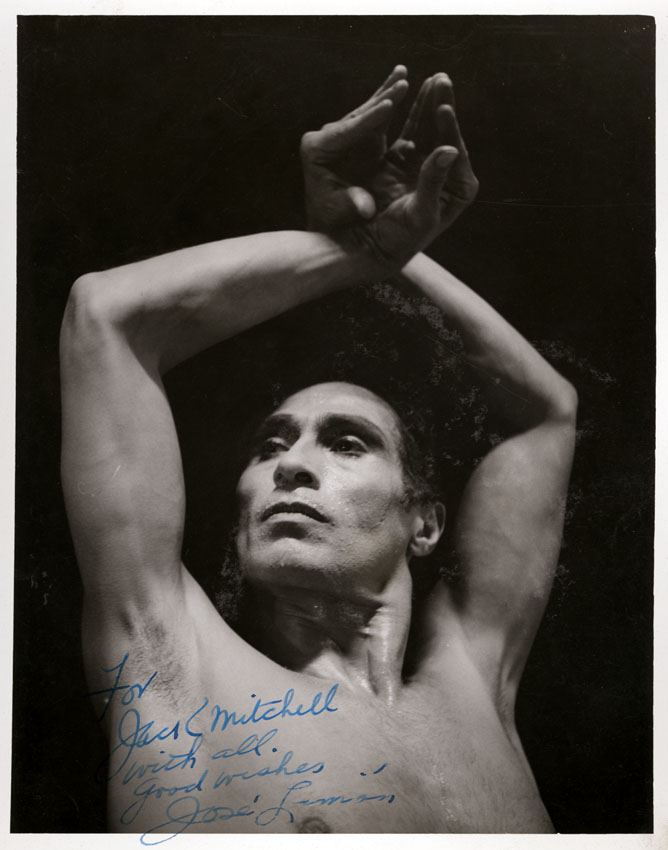 Victor Mature, 1944 – Hollywood star Mature was starring on stage in a patriotic wartime benefit show, "Tars and Spars", the Coast Guard Show. Jack was a high school boy, the youngest person in Florida ever issued a press card. The photographs he took at this show were published in newspapers in Florida.
Mature signed this one "To Jack – My best to you and yours always, Vic Mature. P.S. Thanks for the pics"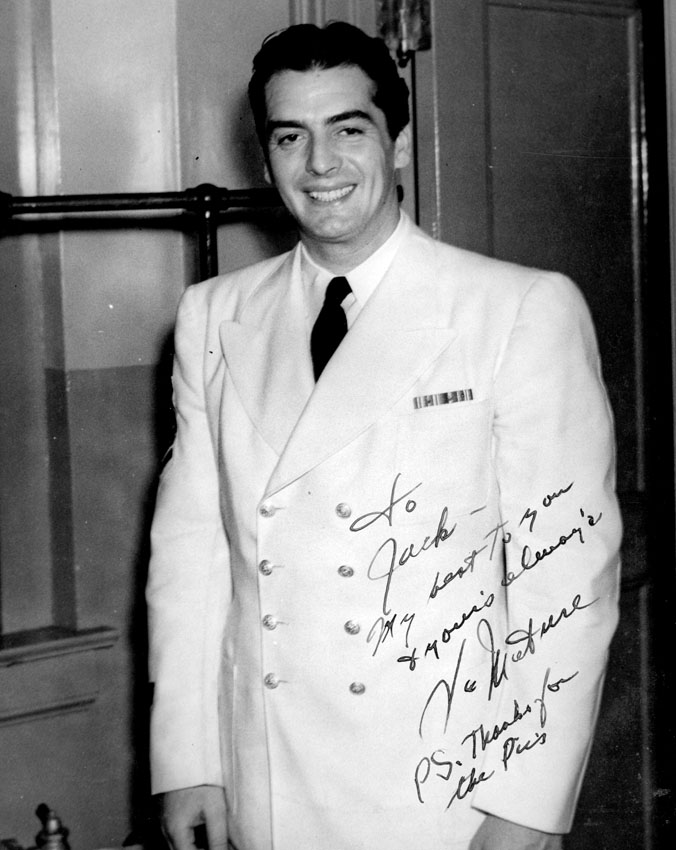 Gary Merrill, 1950 – Jack Mitchell photographed Hollywood star Gary Merrill in New York during a publicity tour for "All About Eve" (Merrill was married to his co-star Bette Davis that year). He signed the photograph "Best to Jack, Gary Merrill"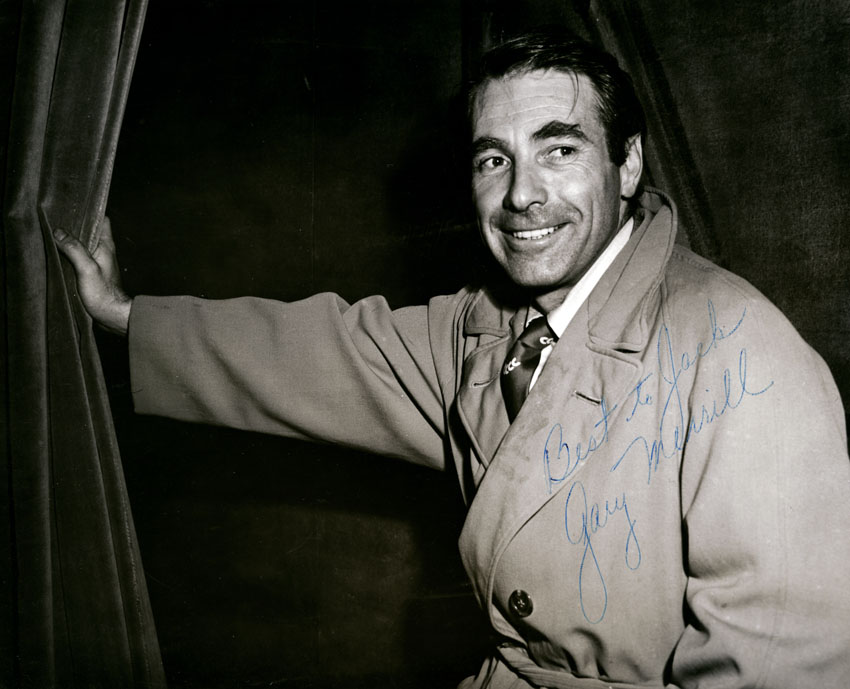 Margaret Morris, 1954 – Jack photographed the British dancer and choreographer in 1954 when her Celtic Ballet toured the United States and performed at Ted Shawn's Jacob's Pillow dance festival. She signed this: "To Jack Mitchell all gratitude for this lovely work, all good wishes, Margaret Morris"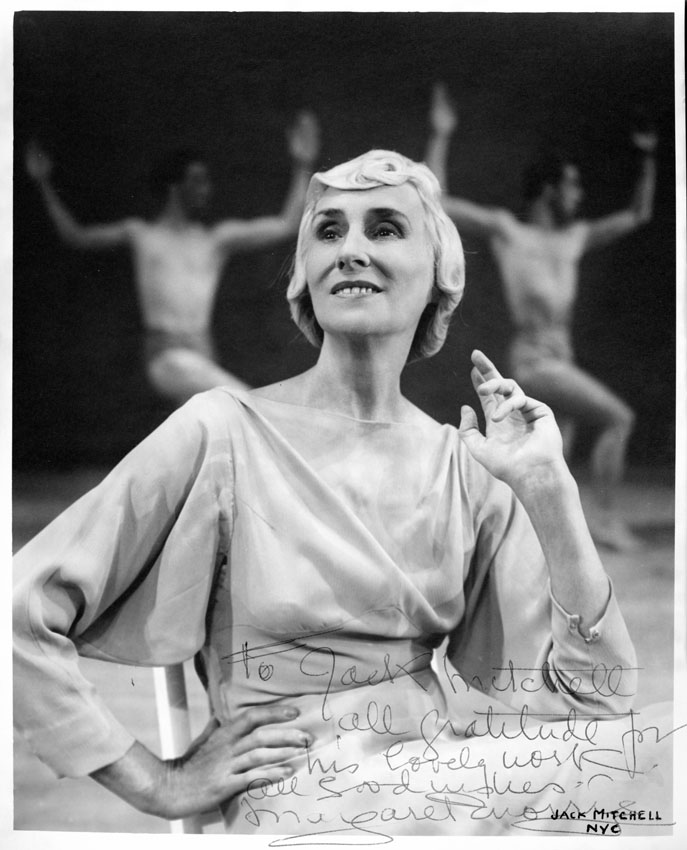 Liane Plane, 1958 – Liane was starring as Marguerita in the original Broadway cast of West Side Story when Jack took this photograph of her standing proudly in front of the Winter Garden Theatre. She signed it: "For Jack and Bob from your ever lovin "Shark" – Liane"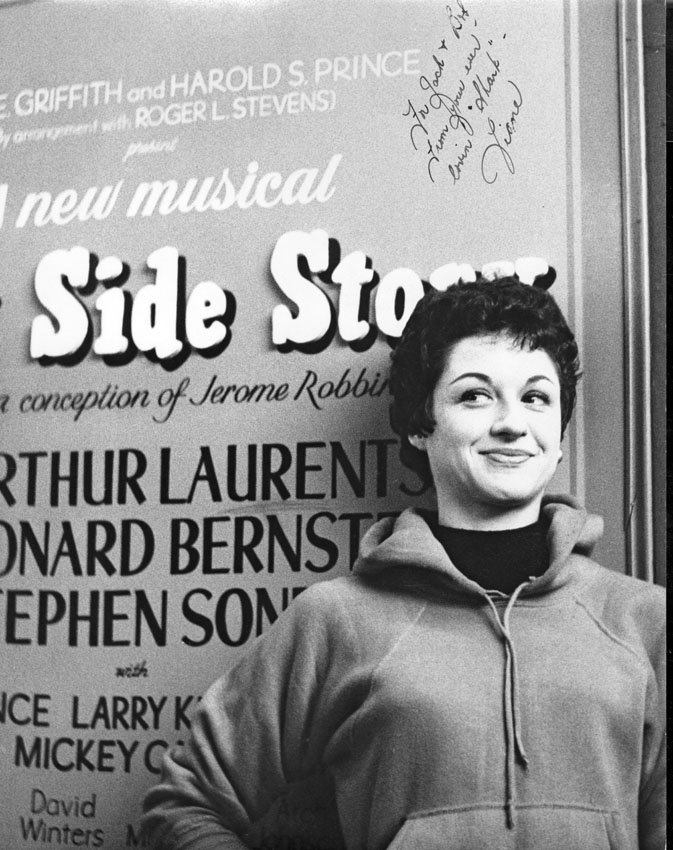 Eleanor Powell, 1961 – Jack photographed the famous actress and tap dancer on the Broadway stage in 1961.
She signed: "To Jack, a dear friend I'm so very fond of. Always, Eleanor Powell"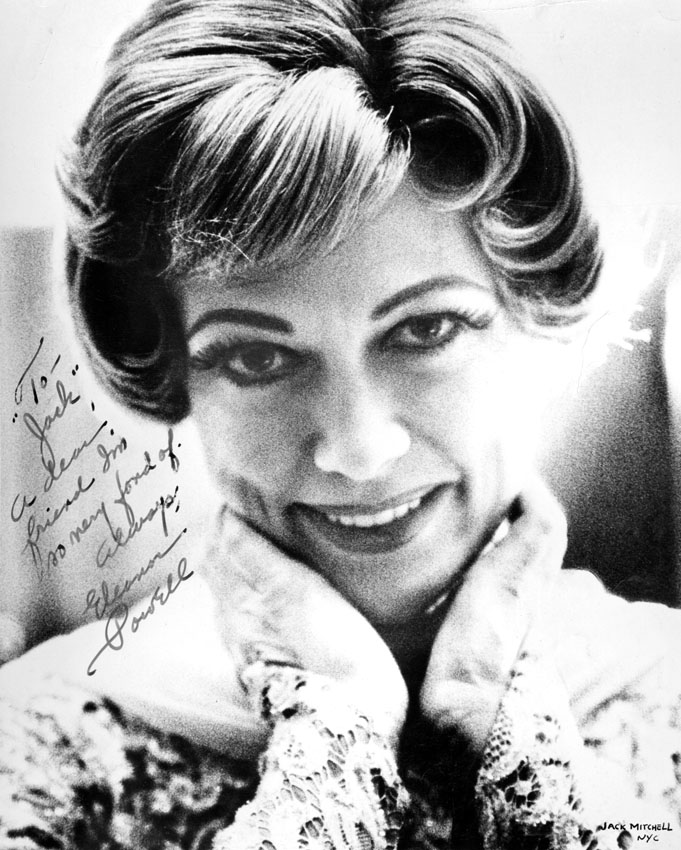 Eleanor Roosevelt, 1958. – Jack photographed First Lady Eleanor Roosevelt speaking at the Harvard Club in Manhattan on March 12, 1958 for the New York Times. She signed the photograph: "To Jack Mitchell with thanks and good wishes Eleanor Roosevelt"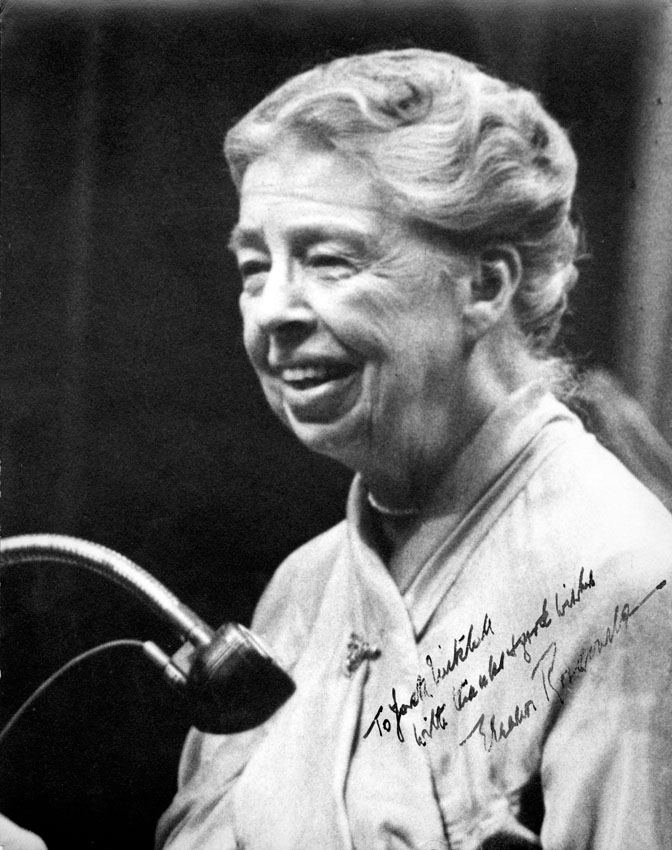 Ted Shawn, 1951 – Shawn, known as the father of American modern dance, gave Jack his start photographing dance in 1949 when he invited him to Jacob's Pillow. He signed this portrait: "To Jack Mitchell, a great artist and a fine friend, Ted Shawn"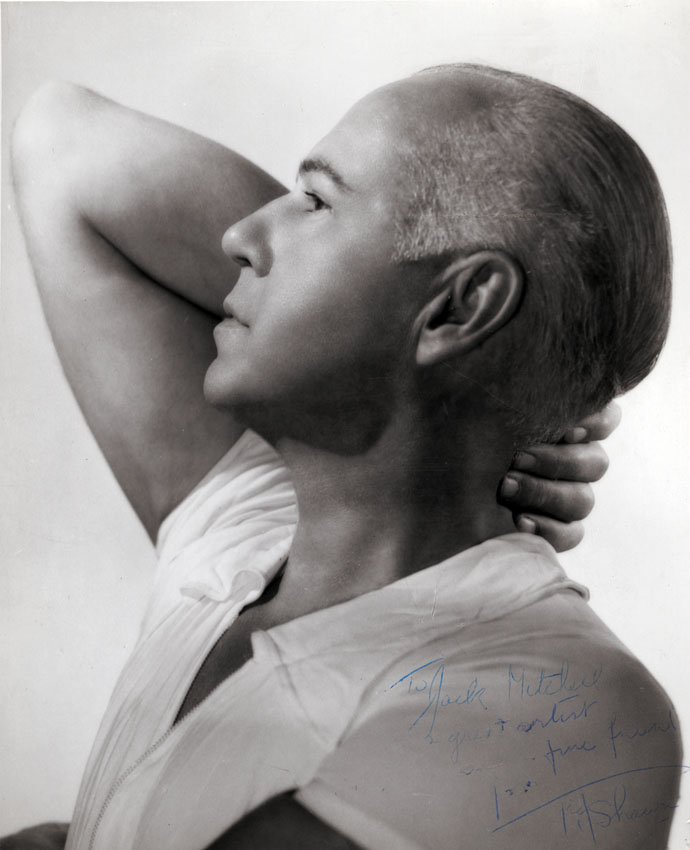 Ted Shawn, Alexandra Danilova and Jack Mitchell, 1951 – Alexandra Danilova was a Russian-born prima ballerina, who left Russia with George Balanchine in 1924. She became an American citizen and one of the most celebrated dancers of her time. She is flanked by Ted Shawn and 26 year old Jack Mitchell who was just beginning his illustrious career in New York City. Both Shawn and Danilova signed this photograph which was taken backstage at the Daytona (Florida) Theater on January 27, 1951.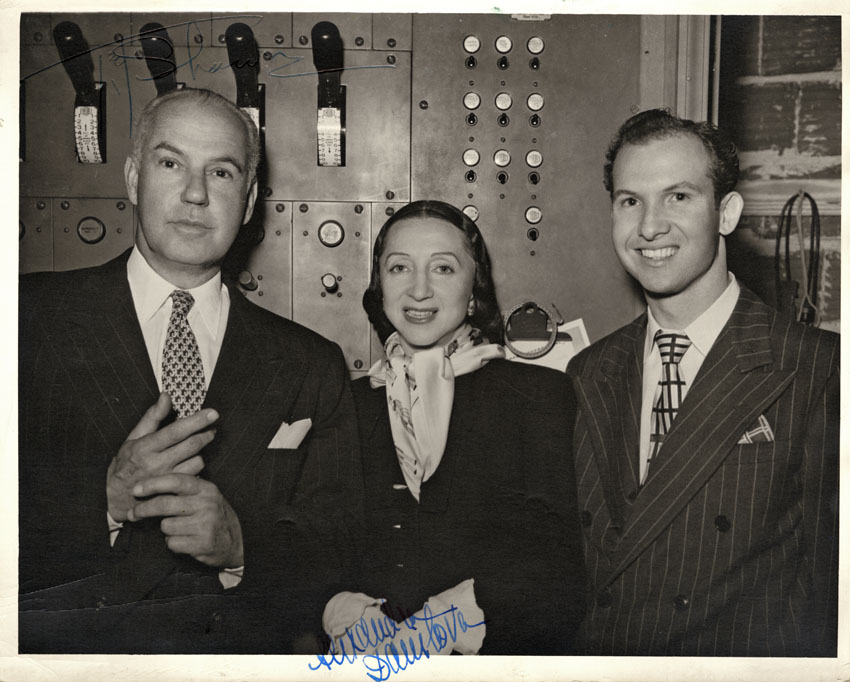 Francis Cardinal Spellman, 1954 – Spellman was American bishop and cardinal of the Catholic Church. He was Archbishop of New York when Jack photographed him. Spellman signed the photo on his forehead "F. Cardinal Spellman"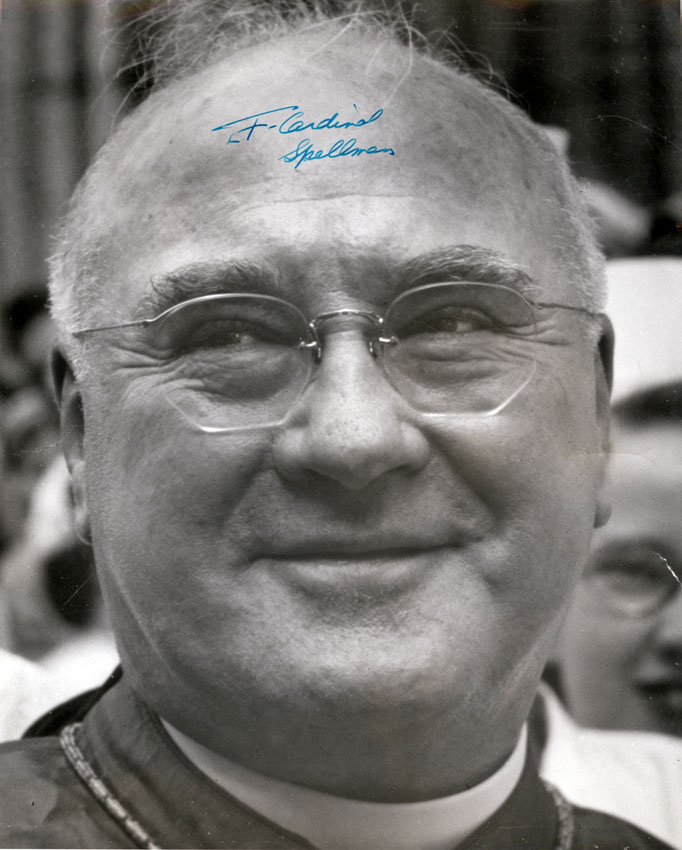 Jack had a fantastic career, photographing such diverse American talents and personalities!